When you are spending a night or several nights in London, regardless of the reason for your visit, there is a very good chance that you would feel overwhelmed by the amount of hotels that you can choose from for your upcoming stay. There are hundreds of hotels all around London and the right choice can be made when a number of factors that should be taken into consideration – from the amount of time that you will be spending there, to the location and price range that you are aiming at. Even when you do the fine tuning of your search, you will still be in a position when there would be quite a bit of hotels left for you to choose from. We know that opinions matter greatly when one is faced with such a choice, but nevertheless we have created a list of some of the finest Central London hotels, which have become a synonym for luxury and high-class.
Our offers
The Soho Hotel is located in the vicinity of the busy commercial and tourist hub of Oxford Street. As one can easily deduce, the hotel is named after the much celebrated entertainment district of Central London and it would more than certainly provide you with opportunities for some good time while you are staying in it. In addition to the basic amenities such as a fully-equipped gym rooms with air conditioning and very friendly staff, you will have very easy and comfortable access to vital parts of London, including a parade of restaurants, shops and nightclubs that are going to help you make your stay in the heart of the capital enjoyable, comfortable and worth remembering. The suites, as well as the lobby of the hotel, are decorated by beautiful sculptures that are definitely adding up to the atmosphere and the class of the establishment.
If you are not a fan of big hotels with hundreds of rooms, then a good alternative for you would be the famous Egerton House, which is celebrated as being one of the best boutique hotels on the territory of the capital today. Egerton House is to be found in Knightsbridge, an area which is famous for two things – its luxury boutique stores and the fact that it is home to the most expensive residential properties in London. The hotel will offer you luxury bedding, free wi-fi and air-conditioning in every room, iPod docks and flat-screen TVs – and this is just the beginning. Opting for the Egerton House means that you will be staying in downtown London and enjoy the glitz of the capital to a full extent. The overall ambiance of the place, the antique furniture that is to be found in every room and the exquisite service will make it very hard to leave, so be advised about that.
London's Theatre district is a place of vibrant cultural activities and a very thriving art scene. If such a thing is up to your likings, then you are definitely going to find the Haymarket Hotel, right across the street of Theatre Royal up to your tastes. The hotel is surrounded by some of the best bars and restaurants on the territory of the capital, and it is also great if you are planning on exploring some of the major landmarks and tourist attractions of Inner London. Places such as Buckingham Palace and St James's Park are at a walking distance from Haymarket Hotel. The hotel itself has a very well equipped full treatment spa, an indoor swimming pool and of course a gym. The afternoon tea, following a centuries long tradition, is serviced every day at four.
The Covent Garden area is well known for being among the most central and vibrant places on the territory of London today, including for such landmarks and attractions as the New Covent Garden Market. There is little surprise then that the Covent Garden hotel benefits greatly and to a full extent from its location and the area's amenities. You are going to find it right next to the National Opera. It offers all the perks an uptown hotel has to, including a massage in the room, which is actually one of the main attractions and distinguished services of the place. There is a tube station literally across the street, so you can access any place in London from here with a relative ease and comfort.
The Taj Suites And Residences at 51 Buckingham Gate are a 5AA stars luxury boutique hotel that, even though coming last on our current list, is a place that has all the potential to make you fall in love with. The Taj is to be found in the ideal centre of London and boasts such amenities as an award winnign spa, a hundred percent high-class room service and staff, impeccable rooms and suites and much more. It is a really great experience staying here, especially if you want to make the most out of your visit to London, while at the same time enjoying the benefits of a somewhat multi-culture background and experience.
A great way to reduce the stress and strain of your relocation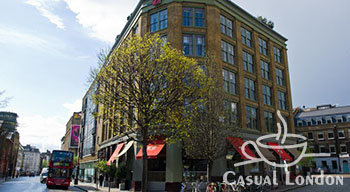 If you are moving homes somewhere across London, especially if that is your first time in the city, it might be a good idea to treat yourself with a night or two at those fine places. The idea is great, because an efficient and hassle free removal is the result of lots of planning, preparation and stress, and those hotels would offer you with a great escape from all the unpleasant and strenuous moments in your life for the past several months (although with a pro removal team London relocations are much more bearable). A spa treatment, room service and a nice view without worrying about expenses and other trivialities would be the best way to unwind and start your life over again, on a much more pleasant note. All you need to do is check those or some other high end London hotels out now.